Health Professionals at Physio Therapeutic Massage have the knowledge and experience to help you get going!
From a professional athlete to a daily jogger, we can help you get back to your daily routine.
We carry top of the line braces - DonJoy and Bauerfeind Getting started - an accurate diagnosis.
At Physio Therapeutic Massage, our health professionals provide an accurate diagnosis, coupled with a properly prescribed and fitted brace to allow a healthier, active, and complete recovery. The support and protection of a properly prescribed brace can help provide the confidence to return you to your desired activity, happily and safely.
Do I need a brace?
Your Physiotherapist or Physician may recommend that you use a brace due to an injury, before or after surgery, or due to deterioration in joints because of overuse, or age. You may also need to replace an older brace due to body or lifestyle changes. An accurate diagnosis is a vital first step to selecting the best pair for your purposes, as well as determining when and for how long the brace should wear for maximum benefit.
In sports, such as football and hockey, where large forces and pressures exerted on the knee, a knee brace can prevent injury by absorbing some of the force that otherwise may cause severe injury to the knee.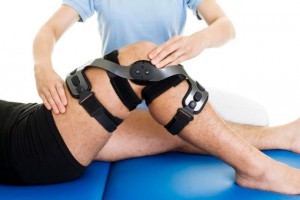 What does a brace do, how does it help?
Braces help increase stability and can off-load pressure. Following injury, for example, a knee injury, a custom fitted brace will help support the knee and keep it in appropriate alignment. The brace also helps stabilize the knee joint and can be set to restrict excessive bending, twisting, and destructive side to side, or front to back movements that will continue to aggravate an already injured knee.
What types of braces are available?
Braces, both patient ready and custom-made are available for many joints in the body, including the following which commonly used:
Knee Braces (including ACL and post-op braces)
Osteo-Arthritic Braces
Post–Op Braces
Back Braces
Elbow Braces
Wrist Braces (including carpal tunnel braces)
Shoulder Stabilizers
Drop Foot Braces
Ankle Braces
Call Us Today to Book a Free Consultation a Custom Fitted Brace. 905-855-7075.
Services Fees
*Please note that there is no charge for an initial assessment. To order a body braces, we ask for a 50% deposit*