Milagros gained valuable experience in client service and office administration. Her efficient and friendly manner enables her to assist clients with their administrative needs.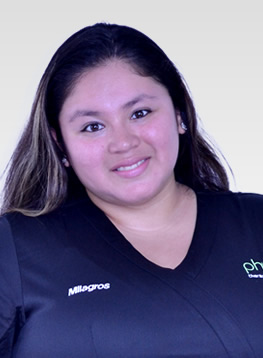 She is dedicated to making sure the clients are comfortable and have a positive attitude and commitment will help to ensure the smooth running and success of Physio Therapeutic Massage Clinic.
Milagros bring with her experience in sales, retails and customer services. Along with an interest in computer, she also loves to dance, music and traveling. She is very excited to bring her experience and passion to our team and our clients.
She loves interacting with our wonderful patients and their families. She greets everyone that arrive, answer the phone or schedule an appointment.
Milagros Aguirre
Milagros also assist when patients and relatives have financial questions. She is here to make sure everything runs smoothly and is always ready to help. Milagros is fluent in English, French, and Spanish.