Rabih gained his Bachelor's Degree in Physiotherapy in June 2002 from Lebanese University in Lebanon, worked since then in various clinics and in the Military Hospital.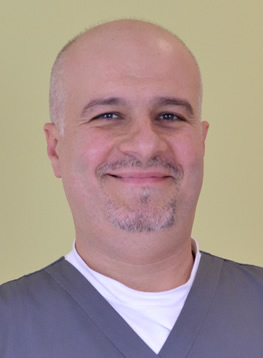 In 2005, Mr. Rizk had the opportunity to enhance his skills in one of the best hospitals in Saudi Arabia where he worked as Inpatient and Outpatient Physiotherapist for more than 8 years.
In January 2009, Rabih became licensed in MLD (Manual Lymphatic Drainage) from the United States.
In 2010, Rabih was chosen to be Rehabilitation Coordinator and Acting Inpatient Supervisor for the whole hospital.
In 2013, He landed in Canada to endeavor a new journey in Physiotherapy.
He is currently a Registered Physiotherapist in Canada.
He is a member of OPA( Ontario Physiotherapy Association) and CPA( Canadian Physiotherapy Association)
Furthermore, as an Outpatient Clinician, Rabih specializes in orthopedics (Fractures, Total knee replacement, Total Hip Replacement, Shoulder Injuries, Sports Injuries…), and Neurological Cases (stroke, Traumatic brain injuries…)
Rabih thrives in enhancing his skills periodically; he is currently attending courses in Acupuncture, Manual Therapy and Laser to better serve his Clients effectively.
Rabih uses in his treatment an array of techniques tailored to each and every client condition, these techniques range from Electrotherapy, Shockwave Therapy, Laser Therapy, taping, cupping Therapy to Manual Therapy, Exercise Prescription,Education and Prevention of Injury.